BOBTOWN & DUNKARD TWP. VFC

Bobtown & Dunkard Twp. Volunteer Fire Company purchased their Ford F-550 "Bandit Mini-Pumper" fully loaded. An All-Wheel-Drive chassis provides the power and low end torque to get them off-road or back on. A helping hand for the multi-tasking mini-pumper is a Ramsey 10,000lb. Front mount winch attached to the heavy duty steel Grille/Brush Guard.
This rear mounted W.S. Darley pump allows for easy and safe operations on even the most dangerous accident scenes & fire grounds by keeping their firefighters out of the traffic lanes. The twin hose trays seen above the body hold more than enough 1 3/4" to add to this truck's already impressive attack capabilities.
Making sure this fire company has enough room to store their equipment a Grand Challenger utility body was mated to the rear frame of the truck. This also allows room for the Defender II 300 gallon poly tank with 6" top fill & NFPA baffles. A W.S. Darley 250 GPM 18HP Gas powered pump makes sure that this water comes out of the Booster Reel, Dual nozzle front spray bar, Forestry Reel and Discharges at a more than adequate pressure.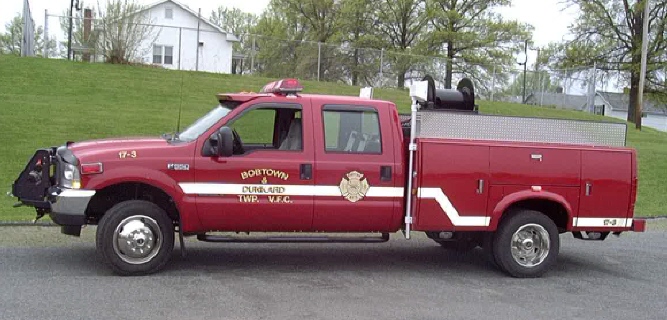 Added to the body's already appealing features 4" NFPA White Scotchlite, ground lighting, Tele-Lite telescoping lights, & full NFPA Perimeter lighting package with 47" Code 3 LP Lightbar.